CSV To vCard Converter Tool For Mac
Export And Save CSV Contacts vCard By Keeping Metadata And Contact Fields Intact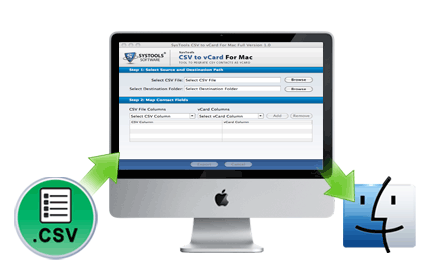 A Mac based utility to convert bulk CSV contacts in vCards
Create separate .vcf file for each CSV file contact
Permit mapping of custom CSV fields with vCards
Completely Mac based tool with graphical user interface
Supports all versions Mac OS X and below versions
Retain metadata and properties of contacts unchanged
Download Now Purchase Now

Feature Gallery Of CSV To vCard Converter Tool For Mac
Know Technical Traits of Tool In Depth To Convert CSV Address In vCard Files

Convert Bulk CSV Contacts In vCard
Users can convert unlimited CSV contacts in vCard for Mac using this tool. The tool will create separate vCard file for each CSV contact without damaging original formatting of contacts.

Map Custom Contact Fields
The tool while exporting CSV file contacts in vCard format provide option to map custom fields of CSV file with vCards so that data can be better managed.

Automatically Map Custom Fields
If required users can check on 'Map all columns' to let tool automatically map all custom fields of CSV contacts with vCard format.

Mac Defined User Interface
The tool is developed technically on defined interface of Mac systems that permit users to execute CSV to vCard flawlessly without any extra knowledge or skills.
Retain Formatting Of Contacts
The CSV to vCard converter tool help to maintain the formatting and integrity of files during conversion process. Not single information is lost or altered while export process is executed.

Save Files Desirably In System
The tool provides option to save output vCard files at location of their choice in system. Users are required to provide a destination location to tool and all data will be saved in accordingly.
Just Simple Steps To Convert CSV Contacts In vCard On Mac!
Step 1 – Add CSV File With Tool

Just browse CSV file with tool to export its contents.

Step 2 – Provide Destination Location

Users are required to provide destination location to save output vCards in system.

Step 3 – Map Custom Fields

Whether map manually or click on Map all columns

Step 4 – Export:

Click on Export option to save all CSV in vCard format on Mac
System Specification

Demo Limitation
The demo version of tool is available for users at free of cost that permit them to save first 15 contacts from CSV to vCard format.
Screenshots to Convert CSV File to vCard File Format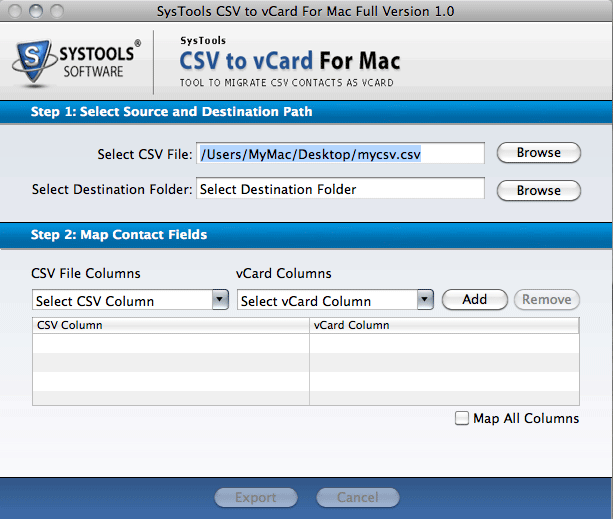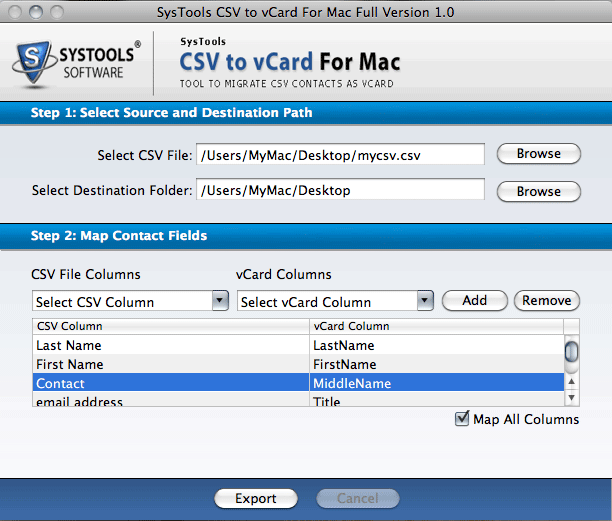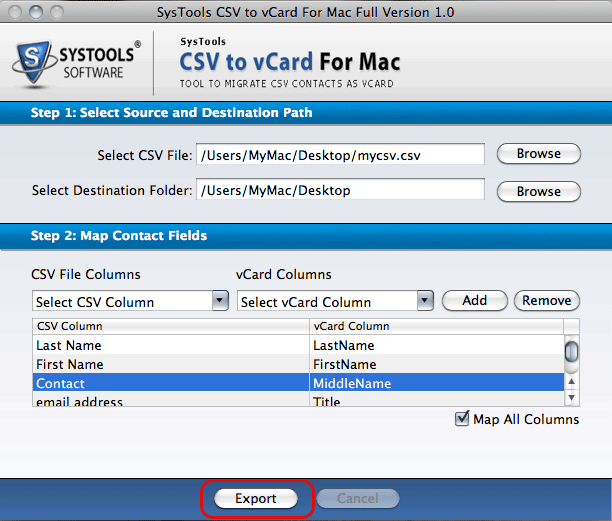 Live Video Of Exporting CSV Contacts In vCard Files
CSV to vCard converter tool for Mac help to retain metadata and formatting of contacts in its original form while the contacts are saved from CSV file to .vcf files. The brief working of tool is pictured live here in the video, watching it can help to execute contacts conversion smoothly. Once the working of tool is evaluated users can invest in licensed version of tool to convert unlimited CSV contacts in vCard format.
---