Know How to Recover MS Outlook PST File
Step 1
Download and run software
To begin with the recovery process, first launch Outlook Recovery software. The software will automatically run a Prerequisites Check on your machine. The status is shown in a check for prerequisites window. Close the window.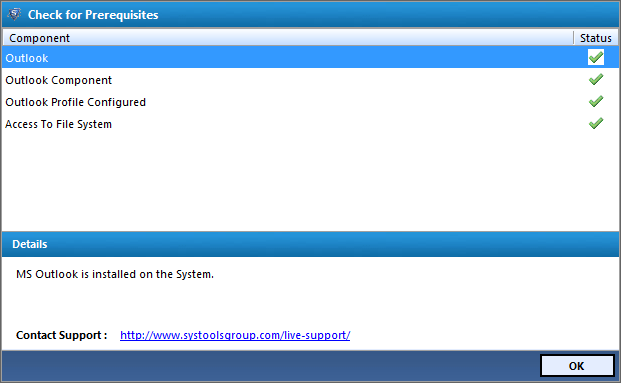 ---
Step 2
Select PST Files to Recover
Click on "Add File" option to choose selected PST files which you want to Recover.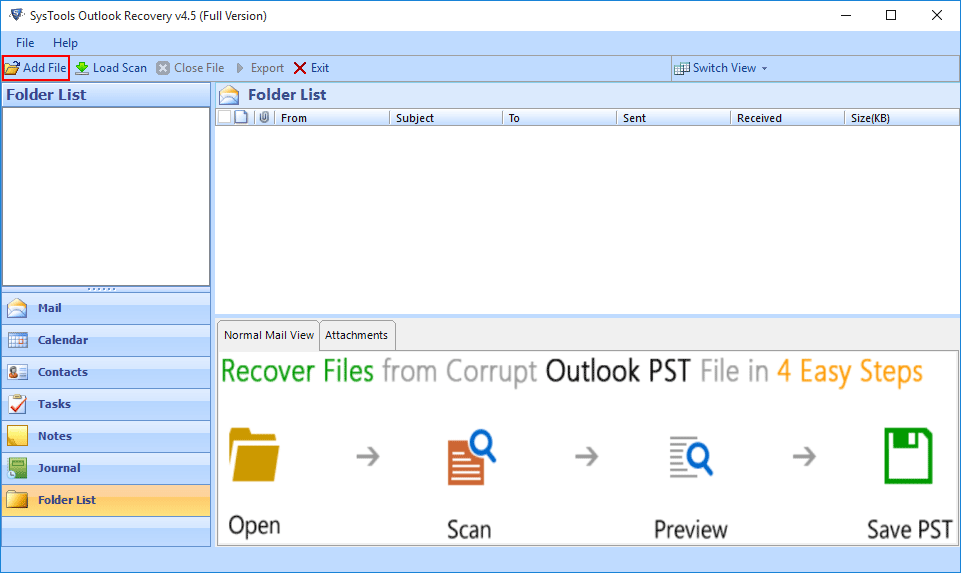 ---
Step 3
Browse File
Browse PST files for recovery, by clicking at "Browse" button.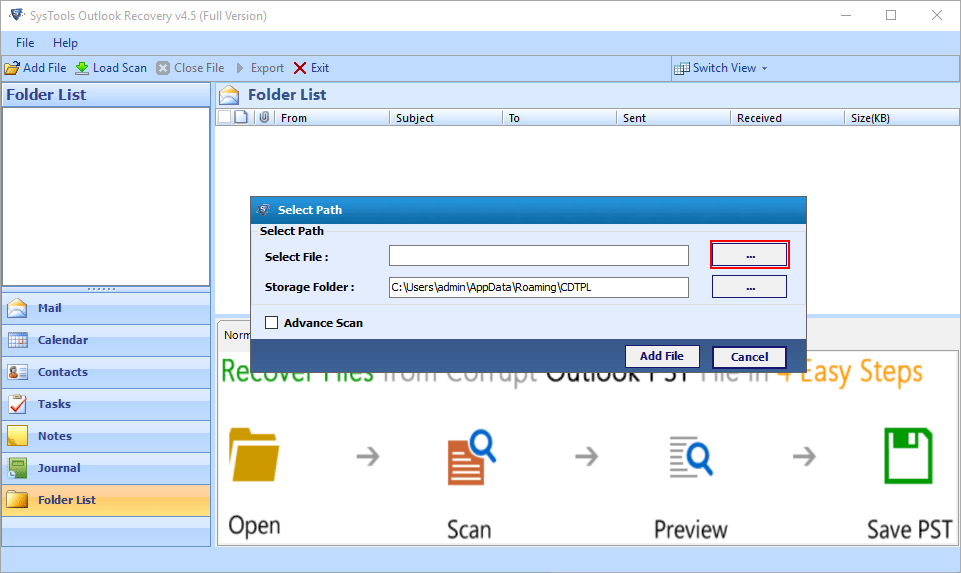 ---
Step 4
Select File and Select Scan Mode
Select the PST file and Select Scanning option:
Advance scan: It works at the time of high level corruption
Storage Folder: This option helps in minimizing the size of installation drive by moving the temp folder path to desired drive.
NOTE: The Advance scan recovers highly corrupted PST files. Also, permanently deleted items are recovered with this option.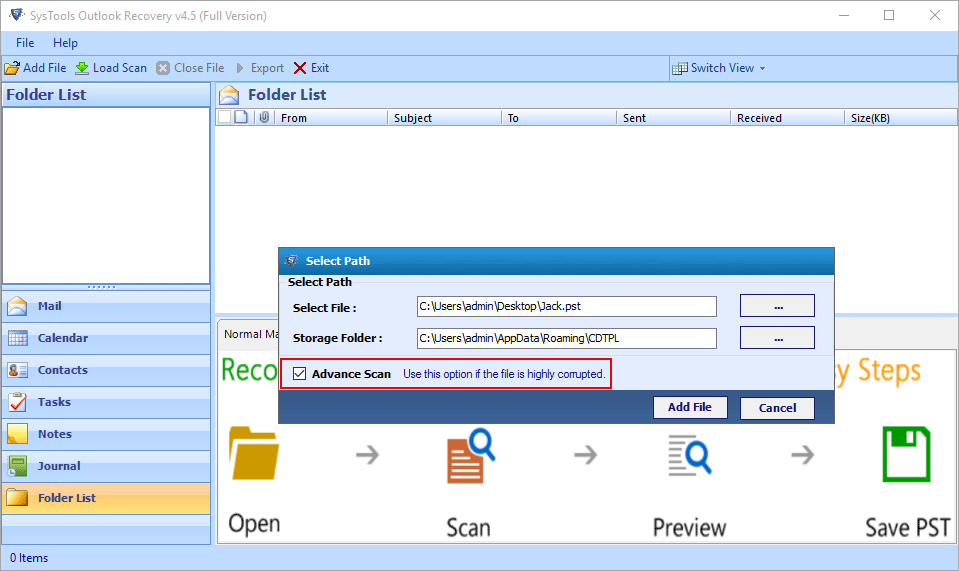 ---
Step 5
Click on Add File
Click Add File to start the Scanning process.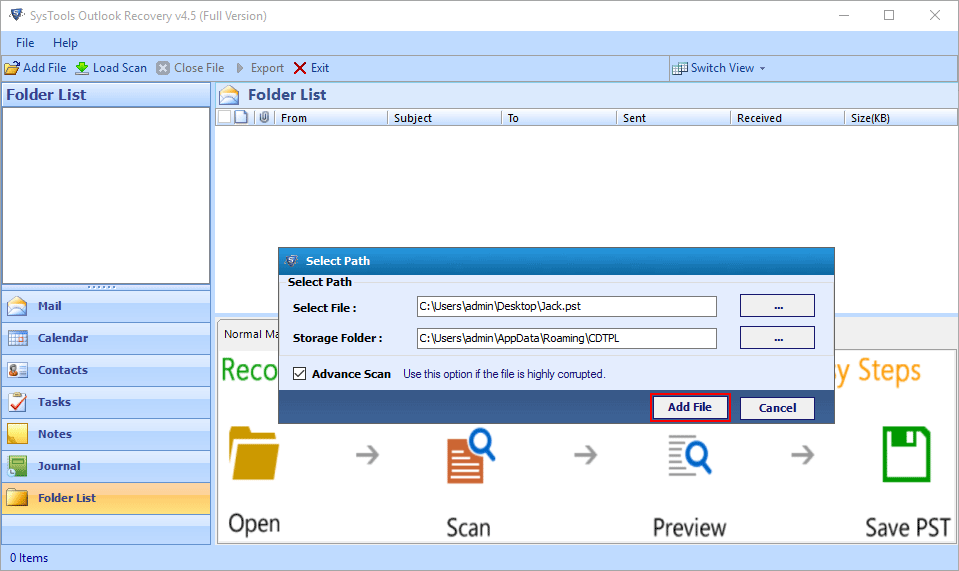 ---
Step 6
Scanning Process will Start
After clicking on "Add file" button scanning process start and show report of scanned data.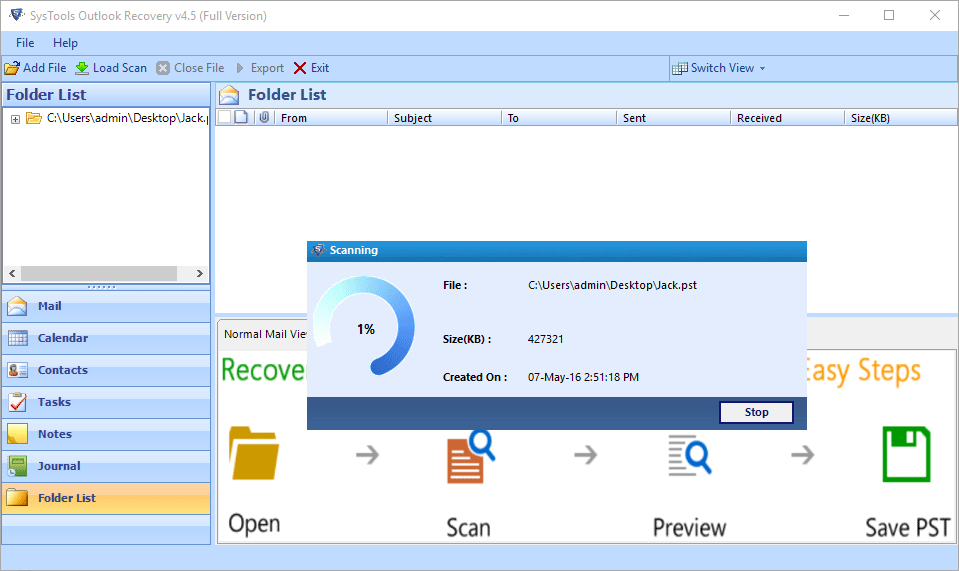 ---
Step 7
Save Scanned Data
Upon completion of the Scanning process, click Yes to Save Scan, otherwise click No.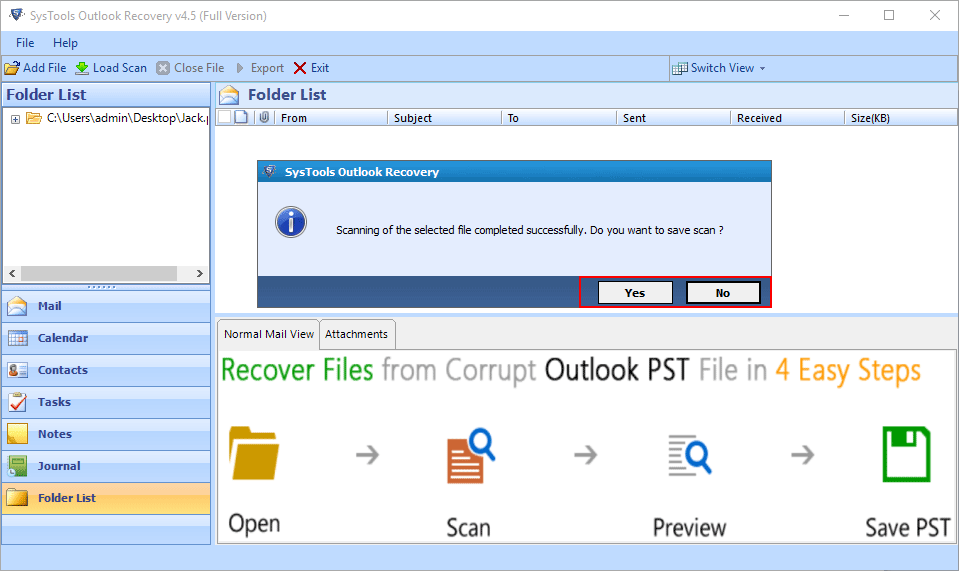 ---
Step 8
Preview Option
After complete scanning of PST file, you can preview the Emails with in two view options;
Normal View
Attachment view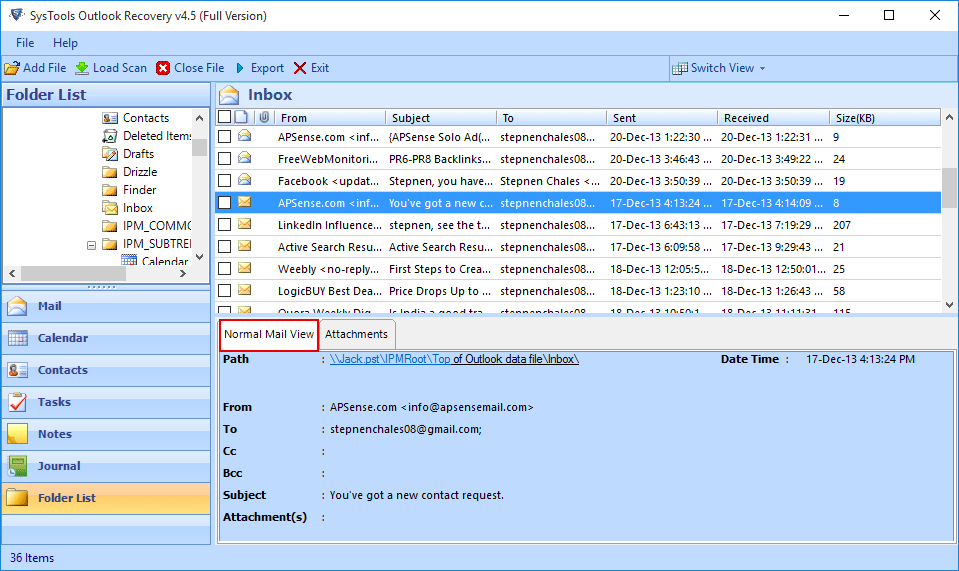 ---
Step 9
Switch View
You can switch from Horizontal View to Vertical View.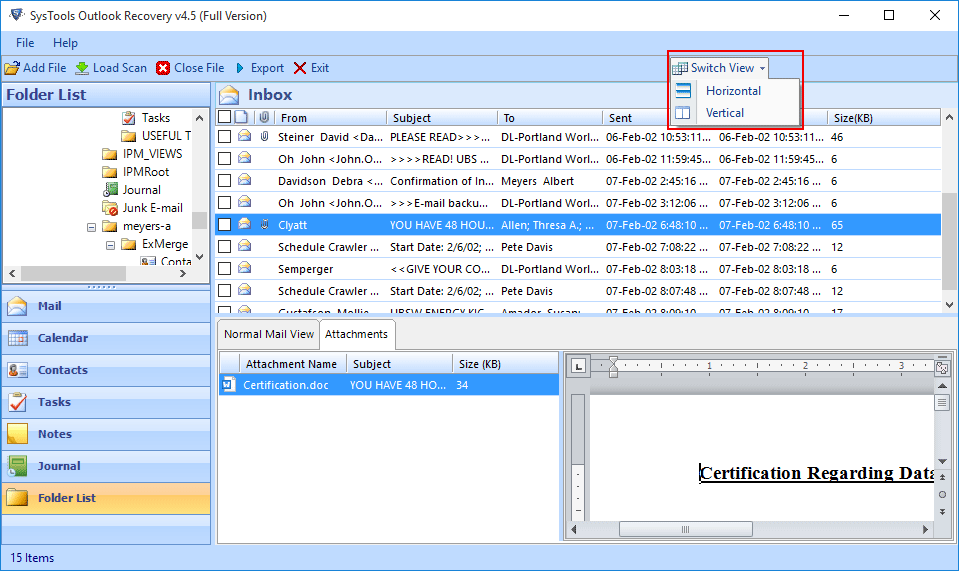 ---
Step 10
Select Export Option
Select the emails which you want to export & right click on them to select the Export option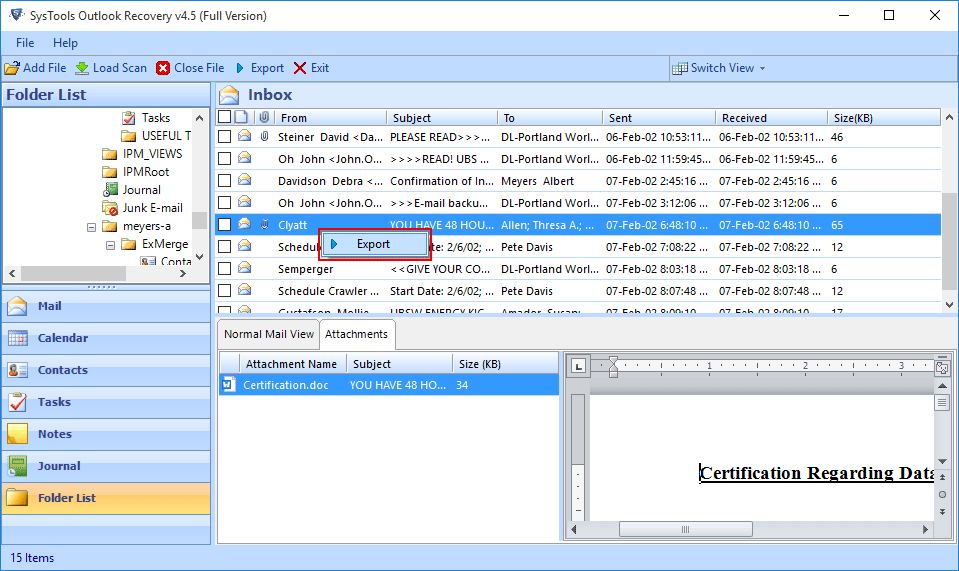 ---
Step 11
Select File Type
Now select the file type in which you want to export your PST file. If you select PST Option then export as Outlook PST in its native format:
Mail Filter: Allow exporting emails of specified interval.
Split PST: Allow to split large sized PST files.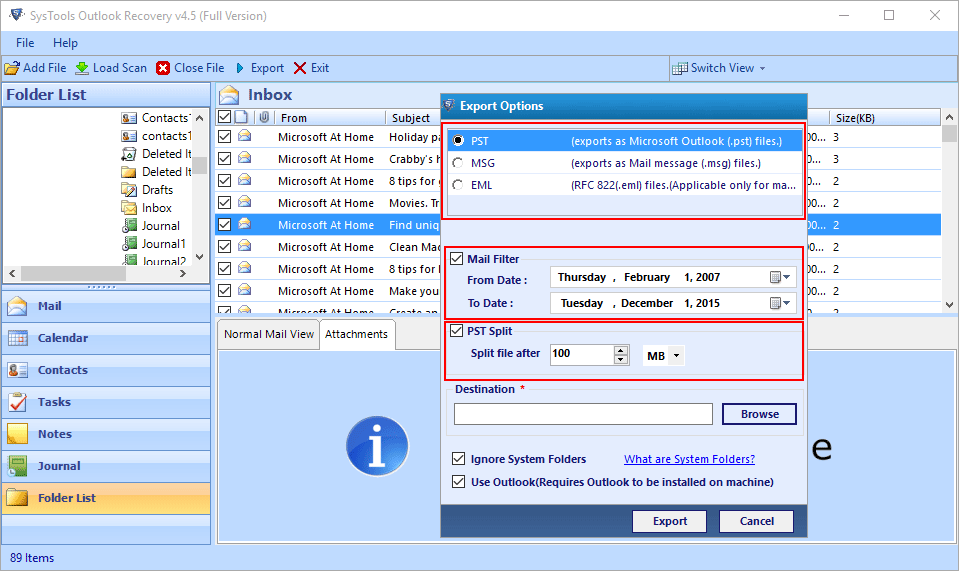 ---
Step 12
Select MSG Or EML Option
If you export PST file to MSG or EML file type then you can apply:
Mail Filters: It allows to export particular date range items.
Naming Convention: Allow to save mails in a managed way as according to subject, form, date etc.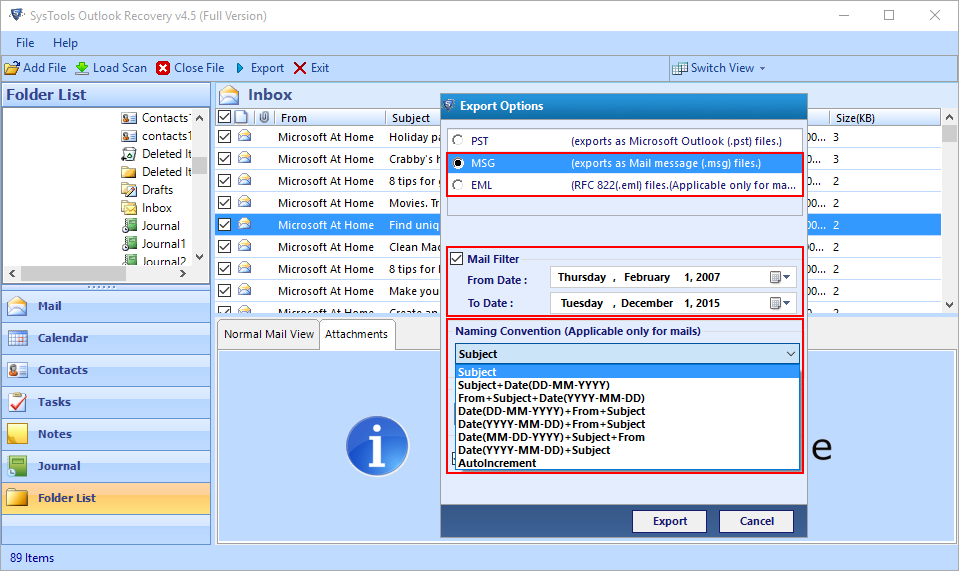 ---
Step 13
Browse Destination
Browse destination location by clicking "Browse" button.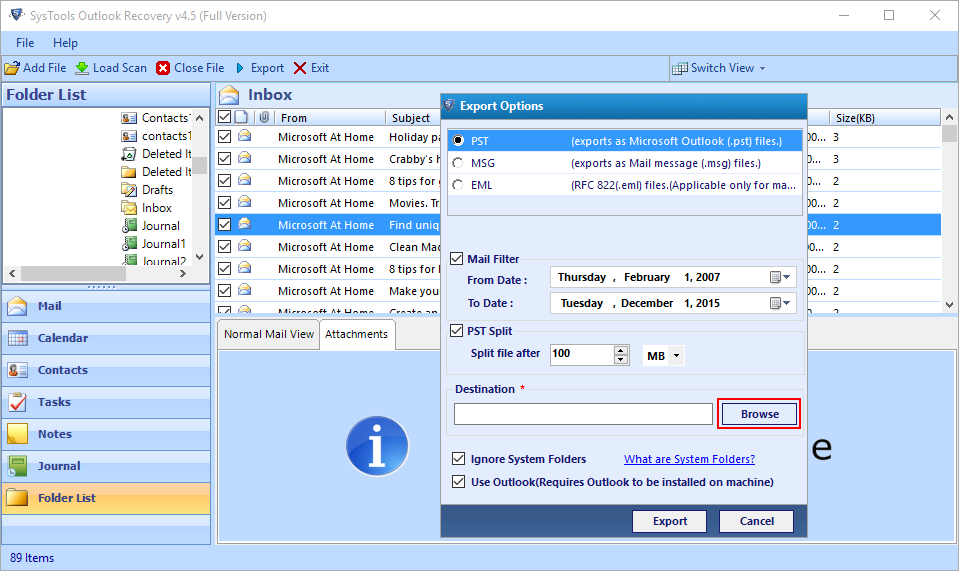 ---
Step 14
Select Location and Click on Export
Select saving location and click "Export" to begin the export process.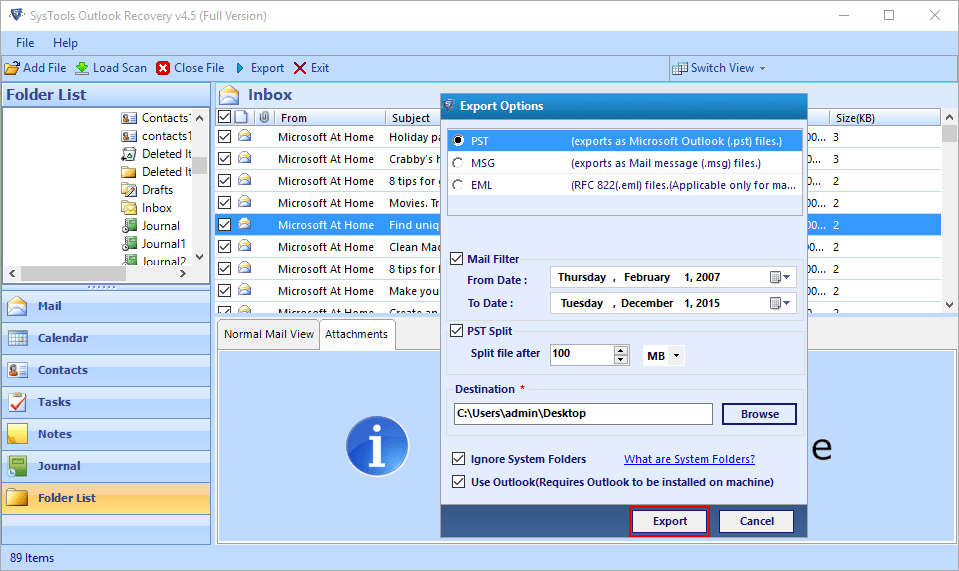 ---
Step 15
Export Process Complete
When export process is completed then a windows popup. Now Click on "OK" to finish process.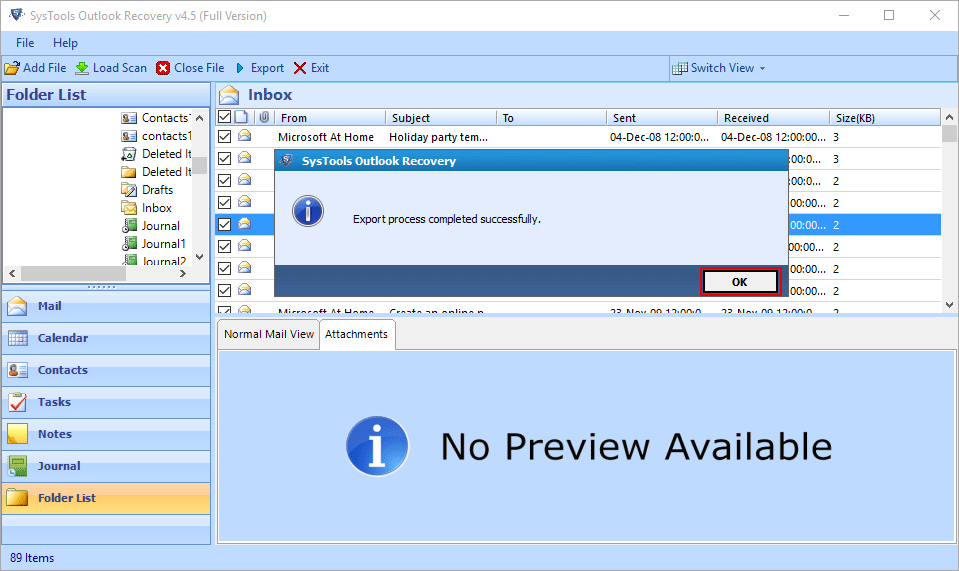 ---
Step 16
Save File
You can save the export report by clicking "Save" button.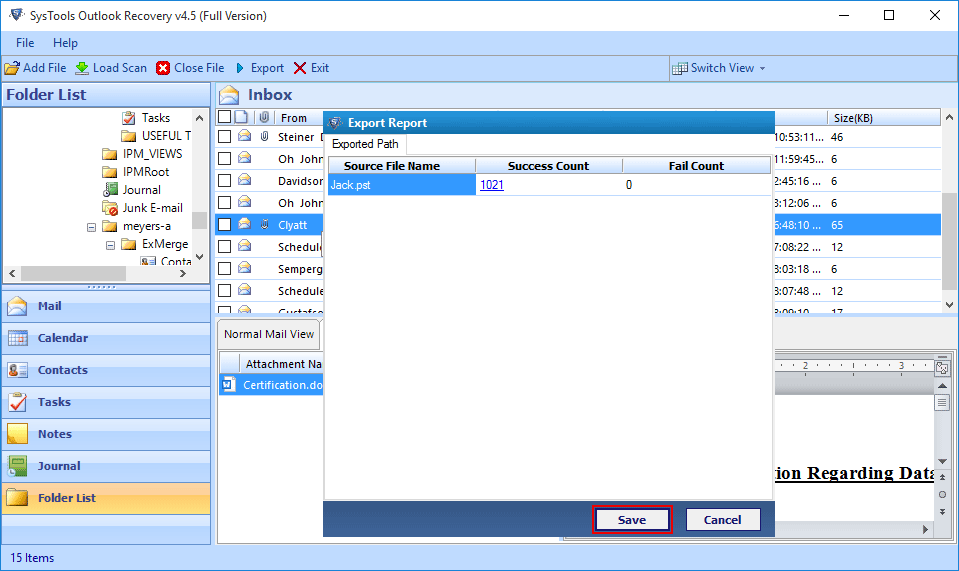 ---
Step 17
Click Save
Enter the name to save the report. Click "Save".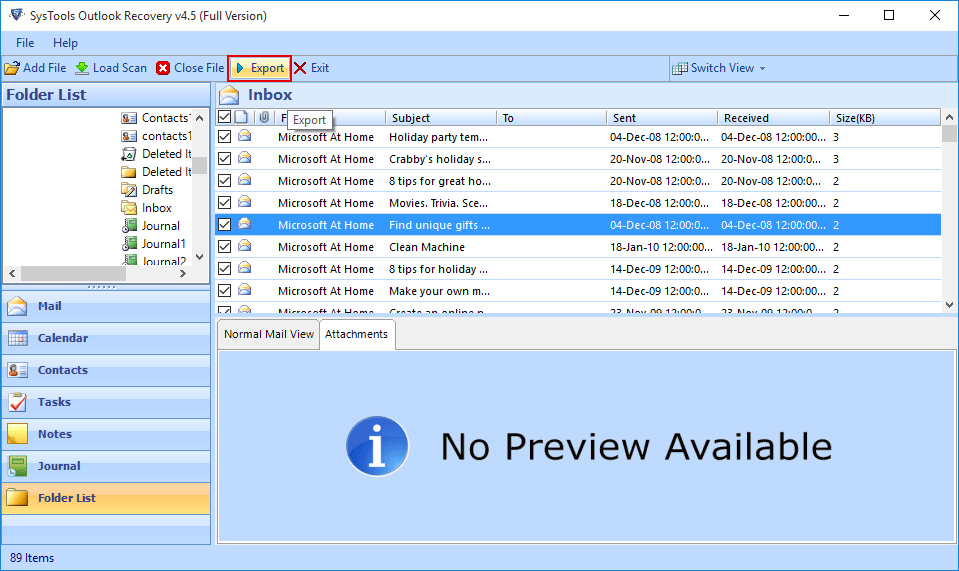 ---
Step 18
Export Selected Folder
If you wish to export the selected folders click "Export" button from navigation bar.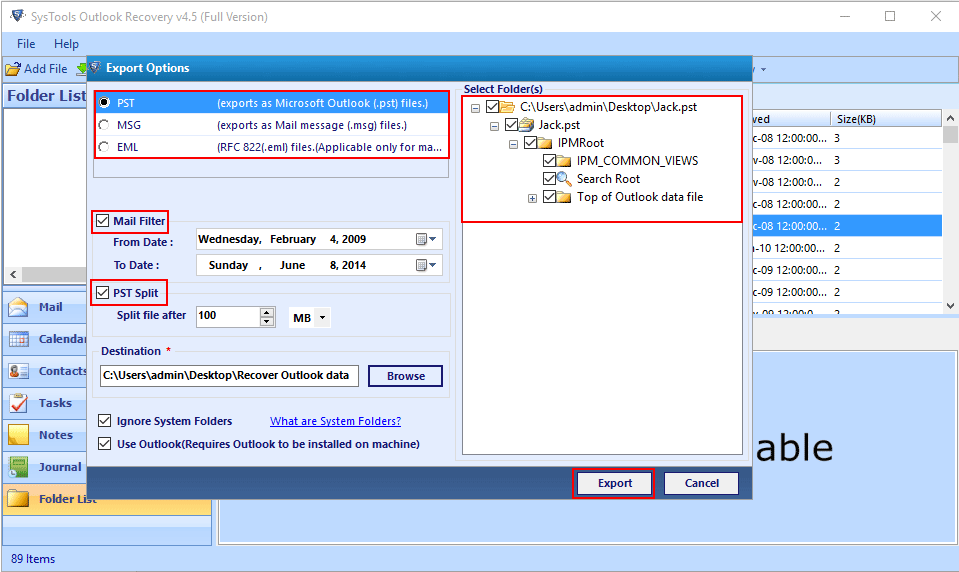 ---
Step 19
Multiple Features of Software
Select the folder: Select (mails, contact, calendar etc.) which is required to export.
Select file type: Select the file type in which you want to export PST file (PST, EML & MSG).
Mail Filter: Apply Mail Filter for Exporting specified date emails.
Split PST: Split the recovered PST files into smaller segment.
Naming Convention: Select naming convention for saving the mails in a more organized manner.
Browse Destination: Select destination location for saving the exported files.
Click on "Export" button to start the export process.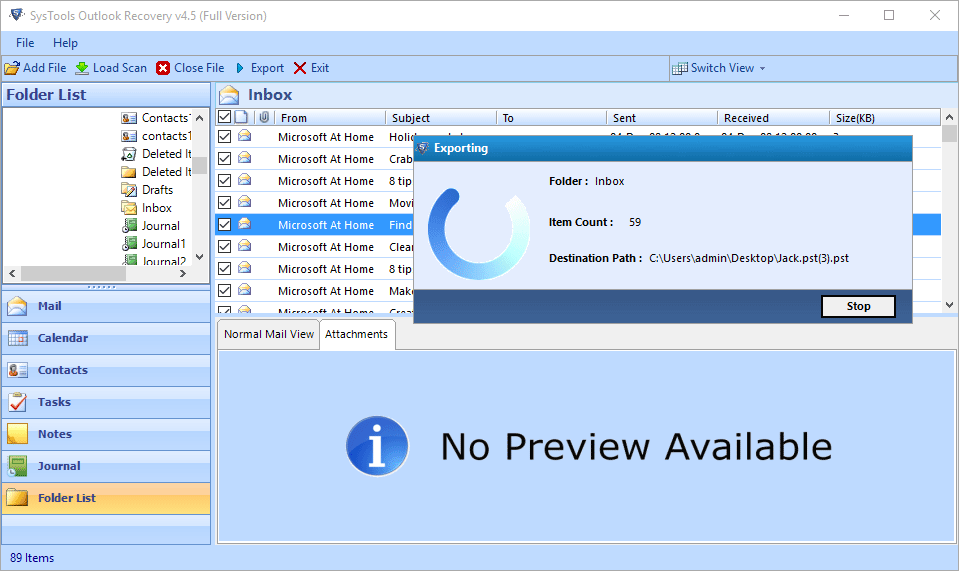 ---
Step 20
Start Export Process
After Clicking on export button the process will start like this.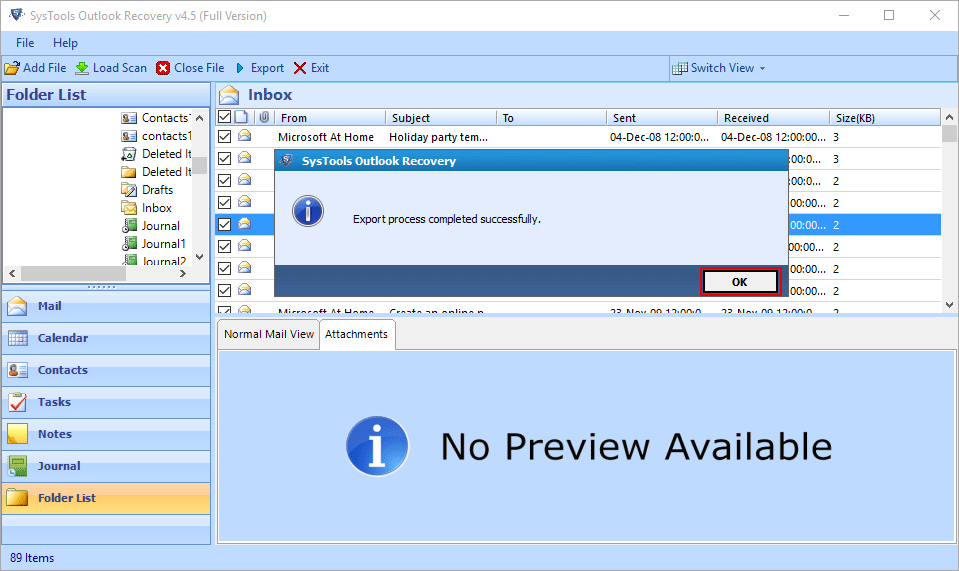 ---
Step 21
Save Export Process Report
When export process is complete without any error then a window pop up with a success massage. Click on "OK" button.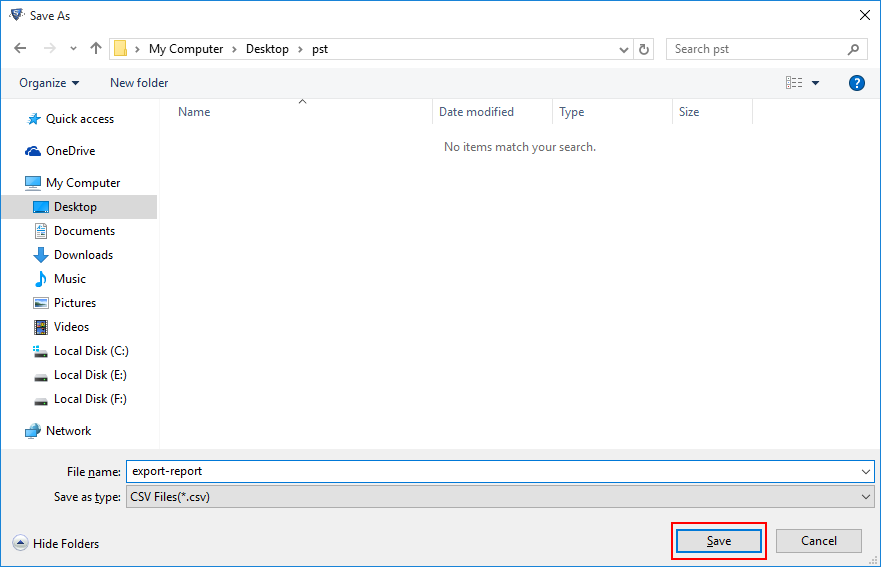 ---
Step 22
Select the Location
Select the location to save the CSV report and click on "save" button.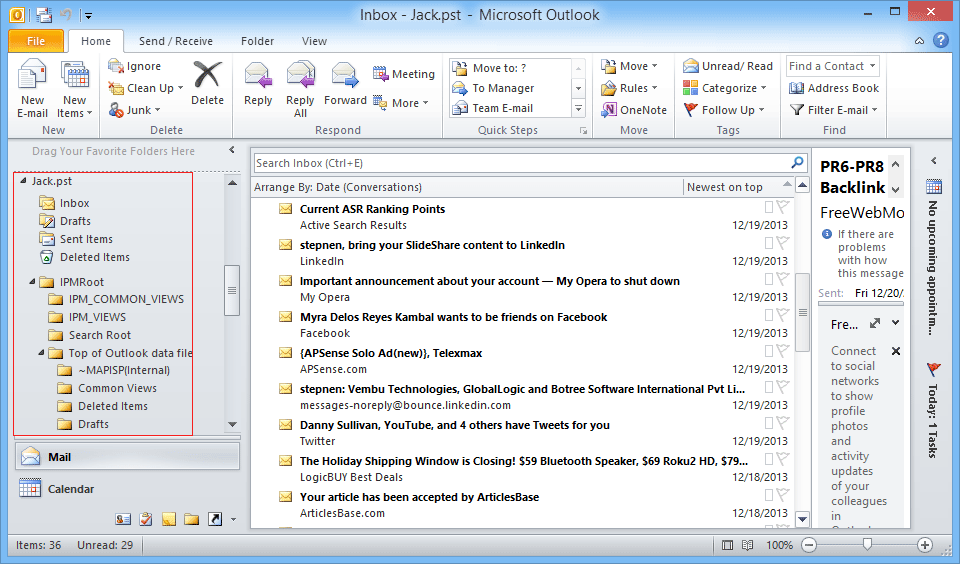 ---
Step 23
Now Add PST file in Outlook
First open Outlook in your machine. Then Click on "File" Menu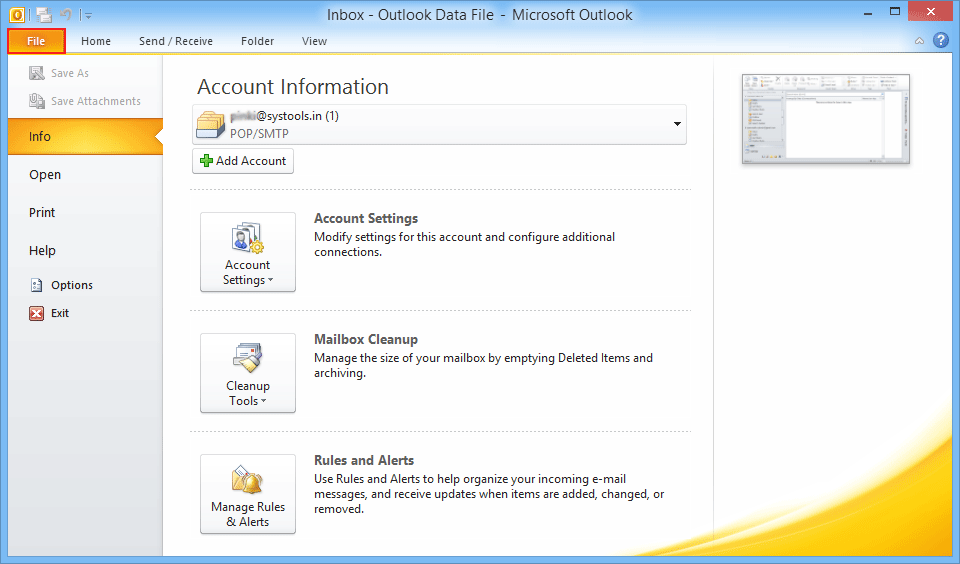 ---
Step 24
Click on Open
Now click on "Open" button and select the "Open Outlook Data File".
---
Step 25
View PST File
Thus you can view the healthy PST file in MS Outlook after the Recovery of Outlook PST file.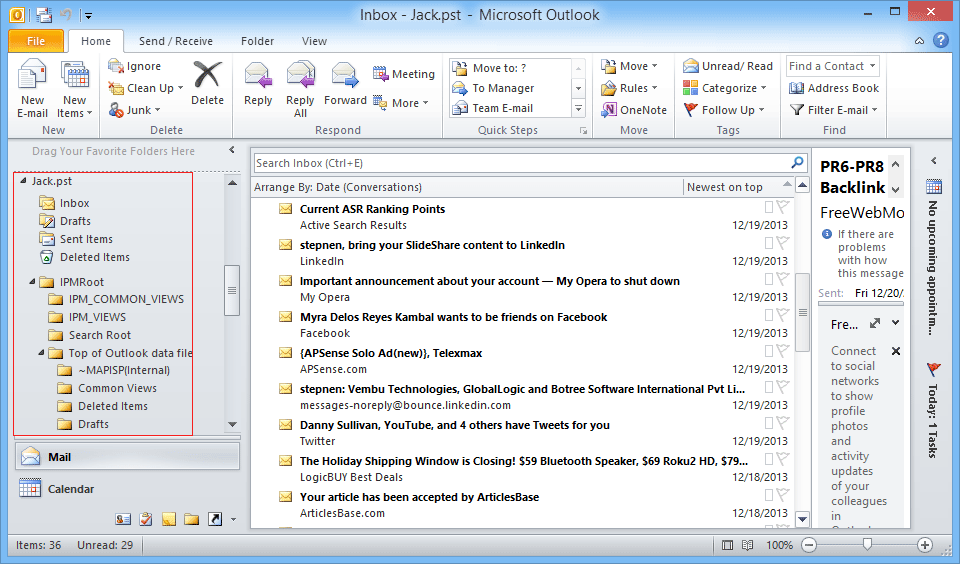 ---