Compress Multiple Outlook PST Files with PST Compress Software
Tool to Reduce Large Size of Outlook Data File to Avoid 2GB PST File Corruption Issue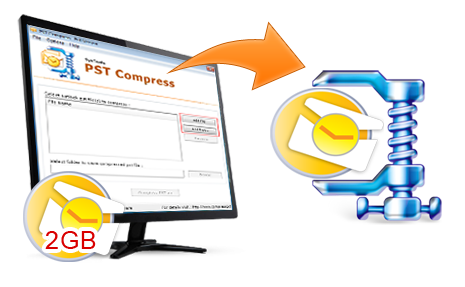 Easy and Effective way to Compress Outlook PST files with 100% secure result
Creates supplementary space in PST file by storing attachments in a separate folder
Maintain original email formatting and data order in the compacted .pst files
Facilitated option to Remove attachments, Extract, and Compress attachments.
Capable to compact multiple large PST file in on go.
Option to remove duplicate data items from Outlook PST file.
Able to compress both ANSI and UNICODE PST file easily
Support all Outlook versions like 2021, 2019, 2016 and below versions.
Compatible with all available editions of Windows and Outlook (32 and 64 bits)
Describing Key Features of Tool
Marvelous characteristics of Software to compress PST files!

Compress PST Files
An oversized PST file is a big concern as this head to corruption with Outlook PST Compress tool; you can compact or reduce the size of PST file easily and make it manageable. Software will extract and save the attachment as per your requirement.

PST Compression Option
Three different options to compact Outlook PST file.
Remove attachments
Compress Attachments
Remove & Save Attachments in a Folder
Remove & Compress Attachments in a Folder

Remove Attachments
This PST Compress tool gives the option to remove the attachments from your Outlook PST file. Not only this the tool give you also the option yo remove and save the attachments into a folder. Also the tool is well devloped so that it can preserve entire meta data intact & safe like; date of sent/received email, attachments, Cc, To, Bcc, sender's ID, etc.

Extract & Save Attachments
This option compact PST file size without deleting the attachments, as it extract attachments from PST file and restore them in separate folder. You can find Outlook PST file compress to a large extent with entire attachment saved in a distinct folder.

Extract, Save & Compress Attachments
This option extracts and save the attachments of Outlook data file, besides this compact the size of attachments by zipping them. Software does not affect the original PST file info stored in it like e-mail, attachment, sender info, date and time etc during the process.

Preview Process Report
One the process of PST file compression started, software will create a complete export report that includes details like, name of PST file, folder, number of mails and attachments found and so on. It works with all MS Outlook editions 2013, 2010, 2007 and 2003 etc.
Get Quick and Easy Steps to Compress PST Files
Software gives perfect solution to reduce size of a Large Outlook PST files
Step 1 – Add PST Files/Folders

To start PST compress process users need to add PST files/folders, from the system and select desired location where they want to save compress PST files.

Step 2 – Choose Compression Option

After selecting the desired location click on compress PST and software provides 4 superior alternatives to Compress PST files from which you can choose the desired one.

Step 3 – Click on Compress

After choosing the require option click on Compress button to reduce the size of PST file.
System Specification
System Specification
Windows Support:The Tool support Windows 11 and all the below versions
Processor:Intel® Core™ 2 Duo CPU E4600 @ 2.40GHz 2.39GHz
RAM:4 GB RAM
Hard Disk Space:100 MB of free hard disk space
Microsoft .NET framework 4.5 or above should be installed.
Demo Limitation
Download free demo version tool to complete info about how to compress PST files. Users will compress first 15 PST files per email folder by using Compress PST software.
Check Out Video of PST Compression Process
Here is Online Software Working Video to Learn How to Compress PST Files!!
With the help of this video user will get complete info about working process of software and Learn how to compress PST files with the help of this effective tool. If After watching this video you think software can full-fill your need, then invest a reasonable cost for its full edition to reduce PST file size and save PST data from the corruption issues.
---