Import and Export Options of Outlook 2010
Tips to Import and Export Outlook PST Files
In last post, we introduced you with import and export options of Outlook 2003 and 2007 that help you to know how to create backup of Outlook PST files as well as import PST in Outlook 2003/2007. In this post, we will focus on two options:
If you want to migrate your all Outlook 2003/2010 data files (emails, contacts, journals, calendars etc) then first part of this post will become helpful for you and if you have need to create backup files for Outlook 2010 without using any external backup utility then second part will be helpful for you. Import and Export procedure of Outlook 2007 and 2010 are same excluding new button of Microsoft Outlook 2010.
To Open Import and Export Wizard, follow these steps:
File » Open » Import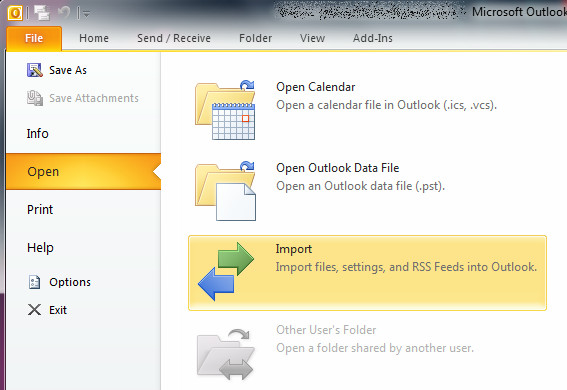 Select Import from another program or file option and click Next to proceed next step

There are many options to import file from another source, but you have to choose Outlook Data File (.pst). After selecting this option, hit Next button

Now, choose PST file you want to import and select one option as shown in red and then, click on Next button

In this step, it will ask you to type the password for backup

In last step, choose the folder to import the file and make sure you have marked the check box for including subfolders.
If you want to import complete Outlook data files, don't change any setting and click on Next button to finalize the process.

To export PST file on local disk, Click on Export to a File option

Now, choose Outlook Data File (.pst) and hit Next button

If you want to export just one folder, choose folder and click on Next button to export the folder or if you want to export everything, select Inbox folder and make sure Include subfolder is checked (this option will export all data including emails, contacts, calendars etc) and hit Next button.
Now, click on browse button to select location where you want to save file and hit Finish button

In last option, enter the password to secure your backup files

Some of the issues that are reported in form of error messages while trying to access PST files are: